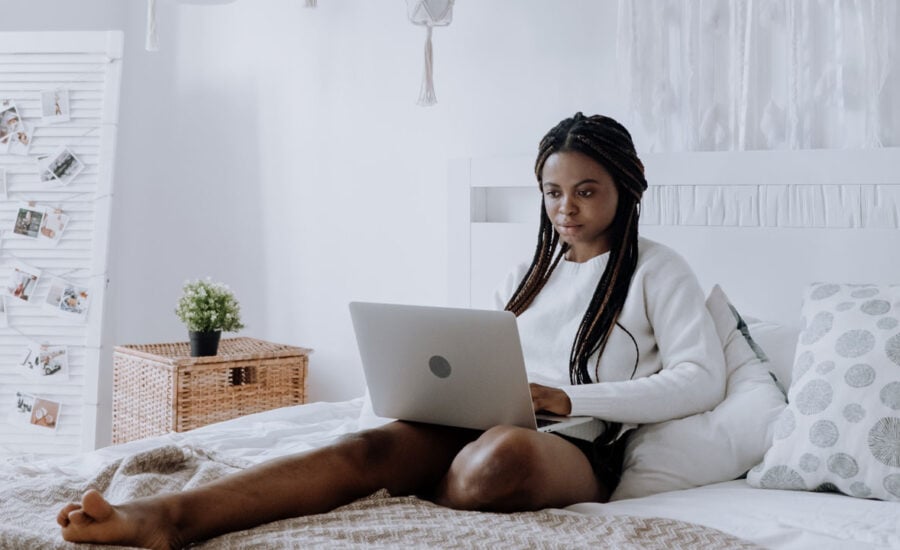 Amidst the sweatpants-clad days of lockdown, it's no surprise Canadians turned to online shopping for a boost of morale. If your pandemic shopping habits still have you clicking "add to cart" for sport, you've probably noticed that when you reach the checkout page, instead of finding just your total, there is a new option to pay. You can now pay in installments through a third party, from the likes of buy now, pay later (BNPL) companies including PayBright, Afterpay, Sezzle, Uplift and others. So, instead of purchasing that shiny new $400 watch in one swift hit to your credit card, you can pay it off in four scheduled payments of $50.
With record-high inflation in Canada, there's never been a more tempting time to splurge without completely depleting your chequing account. In fact, almost 60% of consumers say inflation makes them more likely to use BNPL services, according to a U.S. survey by Credit Karma.  
What is buy now, pay later?
While installment payment options have seemingly popped up overnight, you may be surprised to learn that buy now, pay later services (BNPL) have been available for a while.  PayBright, a Toronto-based service that launched in Canada in 2017 and has partnered with over 7,000 merchants, from Wayfair and Endy to Sephora and Hudson's Bay, was recently bought out by Affirm, an American BNPL, for a cool $340 million. The U.S. company Sezzle also launched on this side of the border in mid-2019 and has over 1,000 retail partners, including brands with online shops, like Matt & Nat, Knix and Frank and Oak. Afterpay, the one with the most self-explanatory name, launched in Canada in August 2020, after success in Australia, New Zealand, the U.S. and the United Kingdom. Even major airline Air Canada recently bought in, partnering with Uplift to allow customers to spread the cost of their air travel over several fixed monthly payments (making that trip to Hawaii seem a lot more affordable). As retailers continue to partner with BNPL programs—like Apple's partnership with PayBright—other financial companies, like banks, are entering the game. Take for instance CIBC, which launched the Pace It feature on its credit cards in 2019. Pace It allows cardholders to stagger payments on purchases of more than $100 across periods of 6, 12 or 24 months at lower interest rates than the bank normally charges on unpaid balances on the rest of their card. (Using Pace It costs 5.99%, 6.99% and 7.99% for each period, respectively.) Cardholders who qualify for the program simply use their banking app to select the purchase they'd like to pay for later in their banking app, and their available credit balance is unaffected. Scotiabank is getting in on the action too, with their SelectPay program, which works similarly to Pace It, but charges a monthly fee in lieu of interest. MBNA, American Express and Triangle credit cards all offer similar features on their cards now, too. Major credit card companies are buying into the payment trend, too. Payment heavyweight Mastercard has introduced a buy now pay later program, allowing users to pay for purchases in interest-free installments on their debit, credit and prepaid cards. Visa launched a similar program, Visa Installments, too. The concept may not seem that different from the layaway programs of yore, offered in department stores or payment plans offered on big-ticket items like auto and furniture. (Layaway was a retail finance tool brought in during the Great Depression, but it swiftly stopped in the '80s  and '90s when credit cards became more mass.) The main difference between layaway and BNPL? You can use BNPL services on purchases under $100, can you use them online and they're becoming increasingly ubiquitous. And it looks like the programs are here to stay: the trajectory of buy now pay later programs in Canada remains strong. In fact, a 2021 report anticipates that BNPL will grow over 63% annually in Canada, with its value increasing to US$ 5955.5 million in 2022. So, is it wise to buy that full-price designer watch now and pay for it later? Here's what you need to know before you buy into the installment plan trend.
How buy now, pay later plans work 
Think of it as "layaway in reverse." Rather than making payments over time and eventually gaining possession of the item, you get it now and continue making payments afterward. Generally, once you sign up with a third-party BNPL, you make your first payment, your item ships, and you make the rest of the payments as per the agreed-upon schedule.  Which service you can choose depends on where you're shopping, since the BNPL partners with the merchant directly. But make sure to read the fine print, as each company's terms differ slightly. Afterpay, for instance, has no interest and no late fees, but caps the amount you can spend at first, gradually upping your limit as you prove yourself reliable. Other services charge interest (usually at a low rate) and some charge fees for late payment. 
Seriously, how much interest is charged on buy now, pay later? 
According to the Better Business Bureau, the third-party BNPL company makes money by charging retailers a small percentage of each sale made through their service and, in some cases, collecting late fees and interest from customers directly. Interest rates on these types of services range between 0% and 30%, depending on the retailer and your credit history. The payment period can last as little as a couple of weeks or as long as 39 months.  How does those annual percentage rates (APR) compare to the card in your wallet? Credit card interest rates range from around 8% (for low-rate cards) to 20% (for standard ones). Also, if you pay your credit card balance on time, you are not charged interest. (Did you know you might be able to negotiate for a lower rate on your credit card? We have more credit card tips here.)
Who's using BNPL plans?
Gen Z and Millennials, mostly. According to a recent study done by the Financial Consumer Agency of Canada, people aged 18 to 34 were more likely to use BNPL services online than any other age group, at 71%. According to that same study, 42% said they used a BNPL to help them budget, 39% said they couldn't afford the entire purchase right away and 23% said they wanted to avoid interest and fees. 
What happens if you miss a payment?
Between interest rates, the cost of borrowing and potential late fees, what's the real cost? The short answer is—surprise!—it varies, depending on the service provider. 
BNPL company

What happens if you miss a BNPL payment?




Afterpay

Account suspended

Limit to be decreased

$10 late fee, plus $7 if not paid within 7 days.

Late fees are capped at 25% of the price of the item you purchased or $68 (whichever is less).




Klarna

No late fees

Suspended account

Missed payments and unpaid debts are sent to debt collection




Sezzle

$10 fee if not paid within 48 hours after the due date. 

May negatively impact account standing




PayBright

Automatic charge to the credit card on the account

No late fees

Can affect account standing









Afterpay never charges interest under any circumstances and it will immediately freeze your account if you miss payments to prevent you from making further purchases. "If a customer goes late, we send them several reminders and try to work with them to collect repayment," says Melissa Davis, Afterpay's head of North America. "Afterpay never reports non-payments to credit bureaus. It should be noted that 95% of our customer payments are made on time."  PayBright, on the other hand, charges interest rates between 0% and 29.95% APR, depending on the retailer, and some of their plans include a processing fee with each payment. And while Sezzle charges no interest, they do charge a fee for a missed payment, failed payment or if you've rescheduled your payments for the second or third time. Of course, there's always the issue of potential fees and penalties through your financial institution if your payment fails, like pesky NSF fees if there isn't enough money in your account to cover your outlay. And while BNPL services are relatively new to Canada, these payment options have been shown to drive Gen Z into debt across the border. One survey south of the border indicated that 43% of Gen Z BNPL users have missed a payment at least once. Considering the interest rates above, that can come with a hefty price tag.
How will using a BNPL service affect our credit scores? 
Afterpay does not run soft or hard credit checks or report to any credit bureaus (even on non-payments), so it won't affect your credit score in any way. In PayBright's case, it depends. They may do an instant credit check, depending on the amount of payment plan. Sezzle doesn't report to credit bureaus, unless you sign up for an upgraded account called Sezzle Up, which includes a feature to help you build credit. (Don't make this mistake with your credit score, though.)