Side hustles are literally the talk of the town on the internet and many blogs these days. Everyone is no doubt either taking up a side hustle, encouraging others to follow suit, or teaching others about how they can get started. As a result, I've even been heavily motivated to start side hustling, again. Go figure 🙂
I say again because I've done my fair share of side hustling in the past. Years ago I could never find a full-time job so I picked up several gigs and opportunities to earn a side income from my basic part-time job that just wasn't cutting it.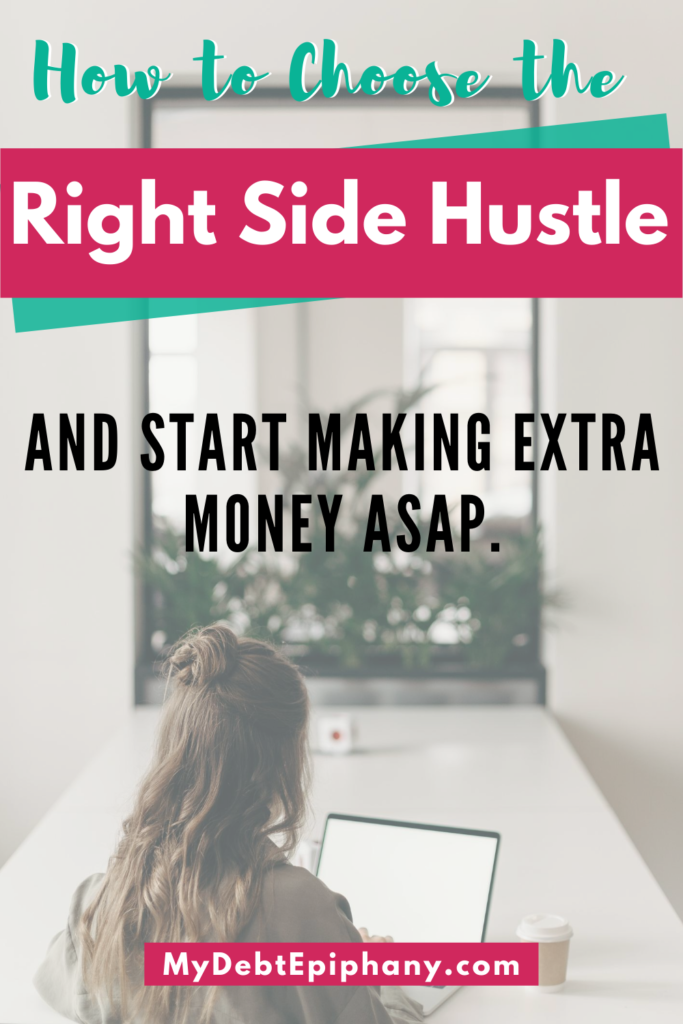 Even though I wasn't as savvy with personal finance and saving back then as I am now, my side hustle income helped me pay for plenty of expenses, bills, and even vacations. Here is how to find the right side hustle for you, plus some side hustle ideas.
Paving the Way Toward Financial Freedom and Success
Side hustles are great because they allow you to earn money outside of your regular job and possibly turn your hustle into a full-time job. When you side hustle you are in control of your success and how much you earn, not your boss or anyone else.
Side hustle income can help you pay down debt, add to your retirement fund, save for a new car or a home down payment and so much more. It's a good way to achieve financial stability sooner. But when you're just starting out, establishing your ideal side hustle can be the simplest process and the most difficult at the same time.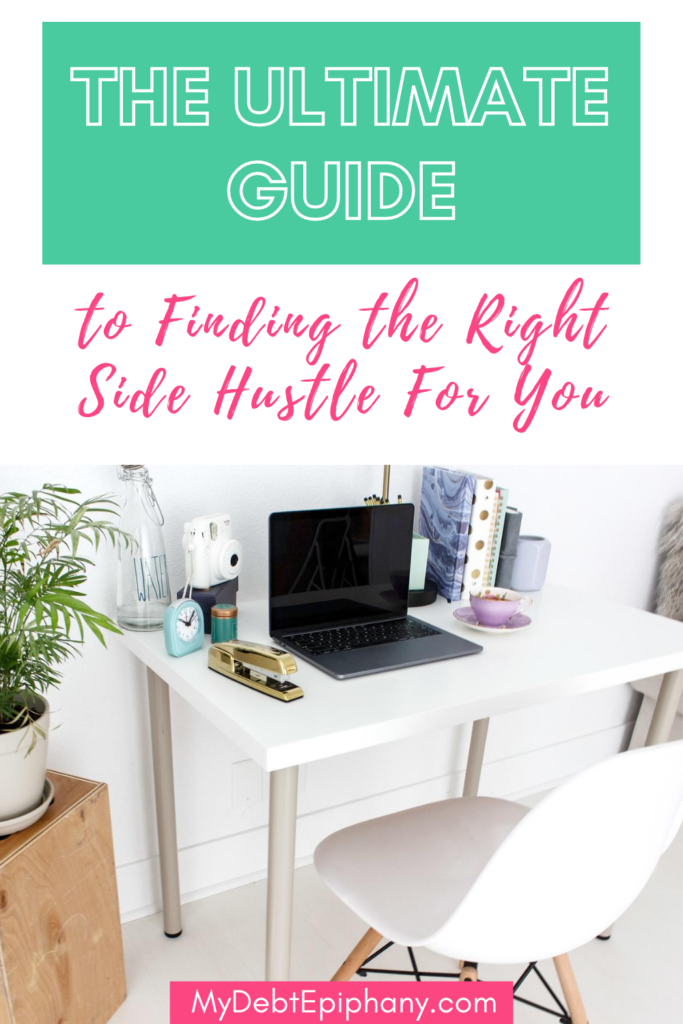 It's often difficult to get started and carry on when there are bumps in the road, but once you find your niche and your stride making money on the side becomes simpler and simpler. Here are a few ways to help determine the right side hustle for you.
What Are Your Hobbies and Skills? What Do You Enjoy Doing?
The easiest way to determine the perfect side hustle is to brainstorm a list of hobbies that you enjoy doing along with the skills you have. Nothing is worse than trying to earn money doing something you hate or aren't even good at.
For instance, if everyone you know is making money by selling homemade products and crafts on Etsy, then, by all means, create an online store. There are plenty of side hustle ideas to earn money both online and offline. Whether you love baking, cleaning, crafting, writing, babysitting, shopping, photography, or graphic design, you can certainly transform your skills into a profitable side hustle.
My side hustle of choice is freelance writing and digital marketing. It's something I love to do, and I could never get tired of doing it.
Related: Debt Mindset Series: The Power of a Side Hustle
Identify Clients and Leads
In order to make money from your hustle, you'll need to find people to pay you for your services. Creating a list of potential clients and a strategy of how you will reach them is the best way to decide if your side hustle will be profitable or not. First, you'll need to create a profile of your ideal client. Who are they? How old are they? Why do they need or want your service? How can you make their lives easier? Etc.
Developing a strategy to reach your ideal client is just as important. Using word-of-mouth referrals, creating flyers, starting a blog, joining an industry network, and using digital and print advertisements are all great ways to find new clients. Sometimes you will find success by utilizing just one of those techniques while other times you will have to utilize many to find clients.
Determine how Much Time You Have
From the planning and gathering of resources to the execution of your side hustle and perfecting your services, setting aside the proper amount of time is necessary in order to succeed. I personally like to set aside 10-15 hours per week to work on building up my freelance writing hustle.
Just like working a regular day job, side hustling takes time and most times you need to put in several hours each week in order to build your hustle up from the ground and make it successful. Sometimes you may not even earn any money right way which brings me to my next point.
Related: How to Find the Energy to Side Hustle
Consider How You May Have to Work for Free
This goes back to the idea of doing something that you love to make money on the side. It's important to be passionate about your side hustle because when starting out, sometimes you won't get paid.
If you are trying to build your clientele and generate a list of client reviews you may have to 'pay your dues' in a sense and provide some of your services for free while building up relationships with others. If you're happy to do what you do anyway, this shouldn't be a major issue as long as it's only temporary. Even though you may have to do a project or two for free at first, you should always be focusing on what you can gain and how you can build your side hustle even if it's not a monetary gain initially.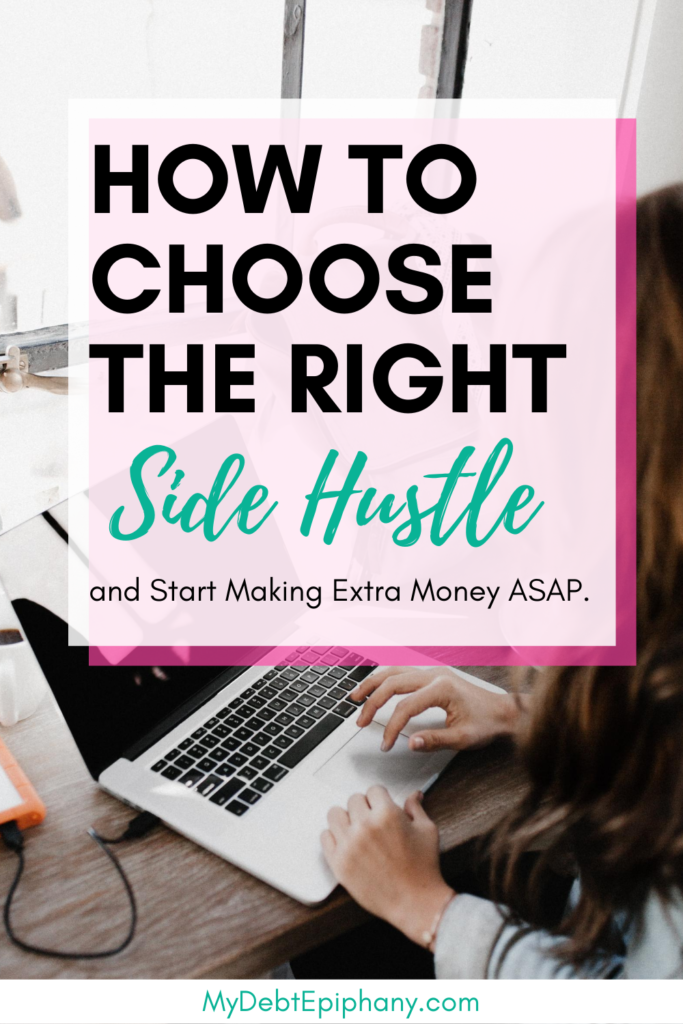 Taking on a project for free can give you experience, material for your portfolio, references and industry contacts, and even open up the door for paid work.
Side hustling is an investment of your time and skills and it can either be a success or a failure. The key is to take your time finding something you would enjoy doing for profit even through thick and thin times. Only then will you find the right side hustle for you.
Side Hustle Ideas
Now that we've gone over how to pick the right side hustle for you, let's talk about a few side hustle ideas that you can get started with.
Blogging
Blogging was how I got my start into freelance writing and turning my side hustle into a full-time business. Now, blogging may not make you money right away. But with hard work, and a little persistence, you can create a side (or even full-time) income from your blog.
Here is my blog post on how to start your own blog. And, to make more money from your blog, you can:
There are so many ways to earn money from your blog. You just have to find what fits you best.
Freelance Writing
Freelance writing started as a side hustle for me, and is now my full-time business. You don't have to turn your side hustle into your full-time gig, but if you want to, the opportunity is there.
Here is how to get started with freelance writing.
Surveys
Surveys won't make you rich, but they are an easy side hustle to get started with. Here are a few of my favorite survey sites:
Airbnb
Have a spare bedroom, basement, or even RV just sitting around? You can host your place on Airbnb. To get started, you just need to list your property and start booking people. Airbnb can turn into a full-time gig if you have enough space (or are in a prime area), but it's also great for some extra cash too. Plus, you don't really have to do much besides keeping your home clean and managing the bookings.
Finding The Right Side Hustle For You
As you can see, there are a ton of different side hustle ideas to choose from. The key is to choose something that you feel passionate about and can stick to in order to earn extra cash.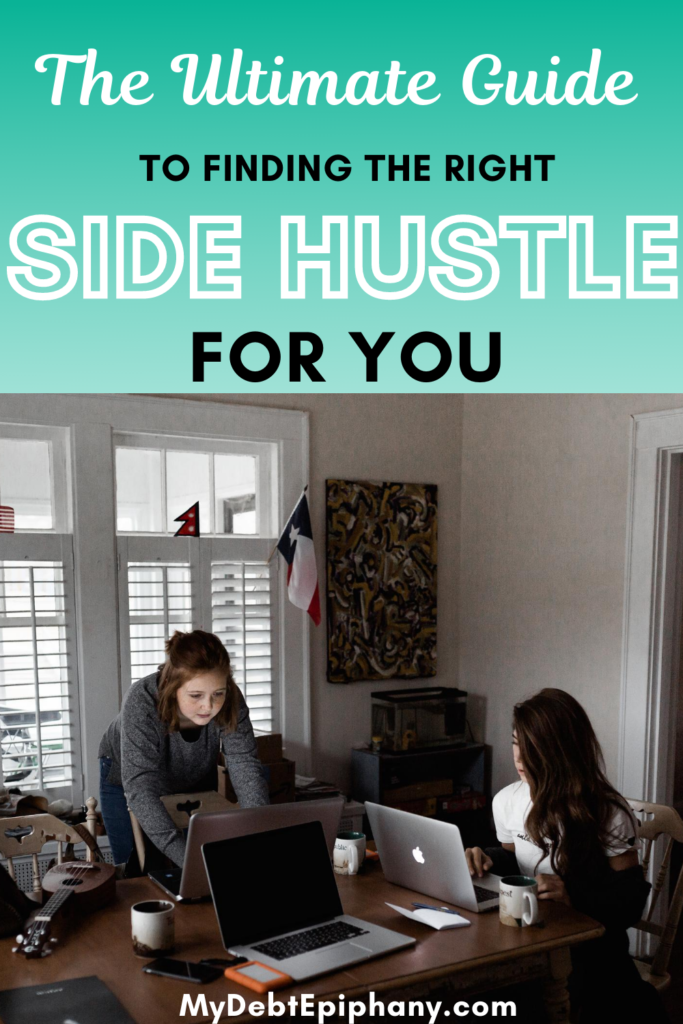 Have you ever tried a side hustle before? How did you get started? What do you enjoy doing that could turn into a profitable side hustle?
Your Income is Abundant. Ready For Side Hustle Success?
There is lots of extra money to be made. Sign up for the free Side Hustle Success online workshop so you can learn how to find the right profitable side hustle for you.