Looking for the best cheap WiFi plans? One thing we can all agree on is that high-speed internet can cost a pretty penny.
According to Time, the average person in 2022 is now paying about fifty dollars a month for an internet connection.
Did you know that 10 years ago that it was only ten bucks?
If you are keen on finding ways to save money, then you might be interested in learning ways to save money on your monthly internet bill or completely eliminating it.
Believe it or not, there are actually a few hacks we've found that can get you free internet.
And, they're all 100% legal ways to do it. Here are the best deals and providers so you can get cheap WiFi plans:
The Best Cheap Internet Service Providers of 2022
What Internet Speed Do You Need?
While it is easy to set up WiFi service in just a few minutes, it all be for nothing if the speeds are too slow for what you need to get done. Here's a table showing what type of internet speed works best for users:
| If you want … | You'll need about… |
| --- | --- |
| General web surfing, email, social media | 1 Mbps |
| Online gaming | 1-3 Mbps |
| Video conferencing | 1-4 Mbps |
| Standard-definition video streaming | 3-4 Mbps |
| High-definition video streaming | 5-8 Mbps |
| Frequent large file downloading | 50 Mbps and up |
Cheap High-Speed Internet Plans (2022)
These are the cheap WiFi plans to consider in 2022 when buying internet service. These plans and best deals are all under $50 per month.
Please note that the pricing is subject to change for these cheap WiFi plans.
1. FreedomPop – Free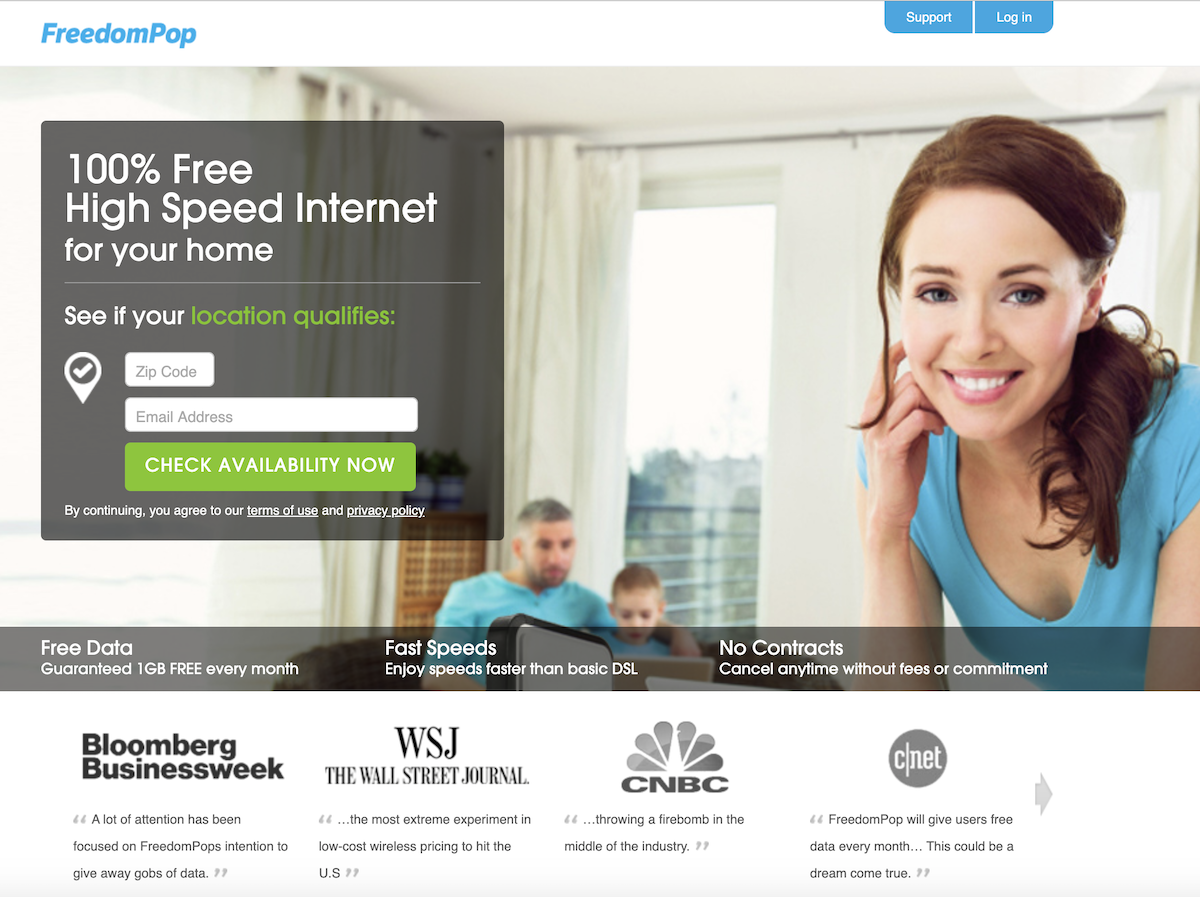 2. Frontier FiOS – $29.99/mo
3. Xfinity – $29.99/mo
4. Fios by Verizon – $39.99/mo
5. CenturyLink – $45.00/mo
6. AT&T – $50/mo
How to Choose the Best Internet Service
Finding ways to spend less is an important part of paying off debt faster, saving more, and being able to invest for your retirement. One monthly expense that most of us share is paying for internet – so here are some tips on choosing the best and cheapest wireless internet plan to make sure you are getting the best possible deal.
Do your research
Do some research in order to discover whether your present broadband provider offers a newer or more state-of-the-art product. Doing so can be a great idea if you have used the same provider for a lengthy period, because it may well be that they have newer and better service options at better prices than in the past. You just need to take the time to ask. However, it may be necessary to sign a new contract in order to get better service or any available price breaks. Prior to entering into a new agreement, make certain you are not situated in a "notspot," or an area where service is likely to be spotty no matter the internet technology involved.
Want Better Broadband? Unbundle the Local Loop
Should you be situated in a geographic region where local loop unbundled operators (LLUs) exist, it may be possible to change your service to a much faster one. If you have already upgraded to faster service, it makes sense to verify router support to ensure that you are realizing the top-line speeds possible.
Check Bundling and Promotions Available
Experts recommend that you look into whether bundling of services makes sense for your situation. Blending internet, phone, and TV needs into a single provider contract may generate significant financial savings.
Check Your Current Speed
Do some speed testing at various points throughout your day by utilizing the tool from your own Internet service provider. The early morning hours have the least traffic, so speeds should be highest then. Doing this type of testing will help you know whether you should be searching for a better option high-speed internet plan.
Check Your Devices/Smart TVs
Should you experience recurrent connectivity issues, shut down some of your electronic devices to check if they may be the source of trouble. If you have an internet bandwidth of 10Mbps or less than it is possible that other devices make be using too much of it. You can also lower your typical bandwidth use by shutting any unnecessary applications that run in your computer's background. These could include music apps like Spotify, Skype, Streaming Video and the like.
Boost Your WiFi Signal Capability
Boost the WiFi signal capability by purchasing a high-quality system that integrates structured cabling. Using Ethernet cables is another option to be explored to achieve better signal strength.
Summary
To recap, your best option is FreedomPop (see full review) if you truly wanted free internet in your house. Or you can also look at ways to get free WiFi near your area.
If you went through this list of cheap WiFi plans then you should have found at least one option that would work for you if you really wanted to save on your internet bill. Next, you can look into how to get free money (not kidding!).
Feel free to take the weekend off!